We have taken every effort to design our website to be informative, helpful, and fun. Hopefully, we have accomplished that — and would ask that you let us know if you would like to see improvements or changes that would make it even easier for you to find the information you need and want.
All we ask is that you agree to abide by the following Terms and Conditions. Take a few minutes to look them over because by using our site you are automatically agreeing to them. Naturally, if you don't agree, please do not use the site. We reserve the right to make any modifications that we deem necessary at any time. Please continue to check these terms to see what those changes may be! Your continued use of our website means that you accept those changes.
Cashman Crystal operates this website to promote premium HD 3D Crystal Image/Photo Gifts and Awards; and to provide more details about the product niche and its various options and purchasing/service parameters.
THANKS AGAIN FOR VISITING!
Restrictions on the Use of Our Online Materials
All Online Materials on this website, including without limitation, text, software, names, logos, trademarks, service marks, trade names, images, photos, illustrations, audio clips, video clips, and music are copyrighted, and protected intellectual property. All usage rights are owned and controlled by Cashman Crystal. You may not copy, reproduce, republish, upload, post, transmit or distribute any Online/Website Materials in any way or for any other purpose unless you get our written permission first. Neither may you add, delete, distort, or misrepresent any content on the Cashman Crystal website. Any attempts to modify any Online Materials, or to defeat or circumvent our security features is prohibited.
You are not allowed to redistribute or sell the material or to reverse-engineer, disassemble or otherwise convert it to any other form that people can use.
Submitting Your Online Material to Us
All remarks, suggestions, ideas, graphics, comments, or other information that you send through our site (other than information we promise to protect under our privacy policy becomes and remains our property, even if this agreement is later terminated.
That means that we do not have to treat any such submission as confidential. You cannot sue us for using ideas you submit. We will have the exclusive ownership of all present and future rights to submissions of any kind. We can use them for any purpose we deem appropriate to our mission, without compensating you or anyone else for them.
You acknowledge that you are responsible for any submission you make. This means that you (and not we) have full responsibility for the message, including its legality, reliability, appropriateness, originality, and copyright.
Linking to this Site
Unless authorized by Cashman Crystal there shall not be any unauthorized backlink/"deep links" to this website in any way to any page. You may not "iFrame" or mirror any of the website pages/content to any other website or landing page. Third Party or otherwise.
Limitation of Liability
We Cherish Will Not Be Liable For Any Damages Or Injury That Accompany Or Result From Your Use Of It's Website Or Products.
If Dissatisfied In Anyway With Your Experience With This Website Or Purchasing Portal Your Sole Remedy Is To Discontinue Using The Site And To Contact Us For Further Assistance If Applicable. Depending On Provincial/State Statutes Some Limitations May Not Apply. In Such Provinces/States, Moments We Cherish's Liability Is Limited And Shall Not Ever Exceed $200.00 CDN.

These Include (But Are Not Limited To) Damages Or Injury Caused By Any:
Use Of (Or Inability To Use) The Site; Use Of (Or Inability To Use) Any Site To Which You Hyperlink From Our Site; Failure Of Our Site To Perform In The Manner You Expected; Or Any Error Or Omission On Our Site; Interruption Of Availability Of Our Site; Delay In Operation Or Transmission Of Our Site Computer/Server; Virus Or Malware.
Please Note That We Are Not Liable For Any Damages, Including: Damages Intended To Compensate Someone Directly For A Loss Or Injury; Damages Reasonably Expected To Result From A Loss Or Injury (Known In Legal Terms As "Consequential Damages."); Other Miscellaneous Damages And Expenses Resulting Directly From A Loss Or Injury (Known In Legal Terms As "Incidential Damages."); We Are Not Liable Even If We've Been Negligent Or If Our Authorized Representative Has Been Advised Of The Possibility Of Such Damages Or Both.

Exception: Certain Laws May Not Allow Us To Limit Or Exclude Liability For These "Incidental" Or "Consequential" Damages. If You Live In One Of Those States, The Above Limitation Obviously Will Not Apply Which Would Mean That You Might Have The Right To Recover These Types Of Damages.

However, In Any Event, Our Liability To You For All Losses, Damages, Injuries, And Claims Of Any And Every Kind (Whether The Damages Are Claimed Under The Terms Of A Contract Or Claimed To Be Caused By Negligence Or Other Wrongful Conduct, Or They're Claimed Under Any Other Legal Theory) Will Not Be Greater Than The Amount You Paid If Anything To Access Our Site.
Links to Other Site
We sometimes provide referrals to and links to other World Wide Web sites from our site. Such a link should not be seen as an endorsement, approval or agreement with any information or resources offered at sites you can access through our site. If in doubt, always check the Uniform Resource Locator (URL) address provided in your WWW browser to see if you are still in a Cashman Crystal operated site or have moved to another site. We are not responsible for the content or practices of third-party sites that may be linked to our site. Any provided links or references to other websites> no inference or assumption should be made, and no representation should be inferred that  Crystal is connected with, operates, or controls these websites. Any approved link must not represent in any way, either explicitly or by implication, that you have received the endorsement, sponsorship or support of this current website or endorsement, sponsorship, or support, including its respective employees, agents or directors.
Indemnification
You agree to indemnify, defend, and hold harmless Cashman Crystal, its subsidiaries, affiliates, and employees, from and against all claims, damages and costs (including, but not limited to, direct, incidental, and indirect damages), and reasonable attorneys' fees, resulting from or arising out of your use, misuse, or inability to use the website, the Service, or the Content, or any violation by you of this Agreement.
User Conduct
You agree to use the Site lawfully. You agree not to compromise the security of the Site, in any way that would render the Site inaccessible to others or otherwise cause damage to the Site or the Content.
Jurisdiction and Other Points to Consider
If you use our site from locations outside of the United States, you are responsible for compliance with any applicable local laws.
To the extent you have in any manner violated or threatened to violate Cashman Crystal and/or its affiliates' intellectual property rights, we or our affiliates may seek injunctive or other appropriate relief in any state/provincial or federal court, and you consent to exclusive jurisdiction and venue in such courts.
Any other disputes will be resolved as follows:
If a dispute arises under this agreement, we agree to first try to resolve it with the help of a mutually agreed-upon mediator. Any costs and fees other than attorney fees associated with the mediation will be shared equally by each of us.
If it proves impossible to arrive at a mutually satisfactory solution through mediation, we agree to submit the dispute to binding arbitration under the rules of the American Arbitration Association. Judgment upon the award rendered by the arbitration may be entered in any court with jurisdiction to do so.
Cashman Crystal may modify these Terms of Use Applications, and the agreement created, at any time, simply by updating this posting and without notice to you.
So, how did it all begin?
What was once a dream in the 1990s, became a reality when our founders Sukayna & Saleha decided to leave their traditional jobs and start their own 3d business. Their love for laser technology opened their minds to the amazing opportunities that this innovative business venture could provide.
They started working on a creative and clever solution and were successfully able to produce their very own spin that enabled our team to create HD 3d photo laser etched crystals with enhanced details. A lot of people loved this idea and were amazed when they saw what could be done with their photos. This is the reason why Saleha and Sukayna have worked extremely hard to further develop and innovate the quality of our 3d custom photo gifting products year after year.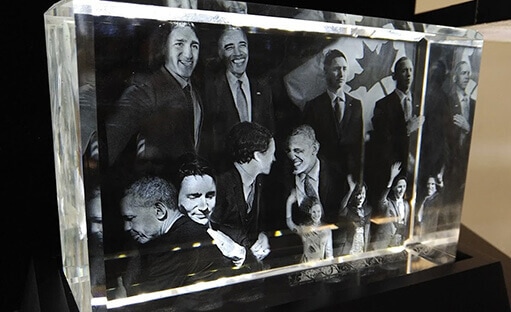 Free product and crazy offers only sent to cellular mobile devices
[contact-form-7 404 "Not Found"]